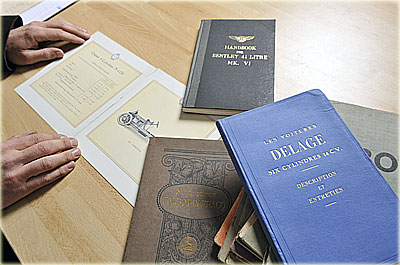 A Museum :


National or International. Whether your museum is an existing one or you wish to be advised in the creation of a museum from A to Z

PURCHASE:
You wish to acquire one or several vehicles ?
Be advised in each of the different phases of the acquisition:
- from the pre-selection and specific search for a model
- to the in depth inspection
- to the verification of its authenticity and the historical research
- to the preparation of a dossier
- to offering vehicles to market etc..
SALE:
You wish to sell one or several vehicles?
Be advised in each of the following sale phases:
- from the preparation of a dossier or of the vehicle for its valuation
- to the selection of the best venue /method for the sale
- to the refocusing of your collection
- to the import
- export and vehicle document transfer
- to the introduction of buyers etc...
FOLLOW UP:
You own an automobile collection?
You wish to
- get them valued, assessed, subjected to expertise by way of complete dossiers
- rent them for events/films or enter them in events
- promote them
- search for parts or service providers
- have repairs or the complete/partial restoration of a vehicle followed up etc...
GENERAL:
You simply wish to :
- be introduced to VIP's from the classic car world
- be assisted in the organization of a show, rally or any other event linked to classic cars or the
realizationand/or promotion of a project or event
- be put in touch with other museums for programs in association
- promote your museum
- improve the presentation of your collection
- be assisted in the management of your collection and/or your museum
- organize the training of your customer service staff, of the mechanics in charge of the vehicle maintenance,
your director, your vehicle cleaner/detailer, your guide to the highest standards of expertise for the guided tours of your museum
- participate in our " Discovery and training days" [improvement] ou Perfectionnement ?
- have a presentation/conference on a theme linked to classic cars etc...
Contact us to find out about the many other services available